ECO HOUSE - PVC Windows in Egypt
The company "ECO HOUSE" was founded in 2009 and is the largest manufacturer of uPVC windows and doors in Egypt. Professionalism, creativity and total dedication to our business enabled the company to take a strong position in the window market. However, our reputation speaks for itself!
We have worked seriously for already 13 years in the area of creating comfort and coziness and the quality of our work is confirmed by appreciative feedback from our customers. Building of our reputation is build from these small stones. Our valuable clients recommend us to their friends, acquaintances, neighbors and colleagues.
We don't just produce windows, we surround you with warmth and comfort, transforming the world around us.
We offer a wide range of uPVC windows:
uPVC windows with a tilt and turn system
jalousie in double or triple glazing
If you are looking for the optimum combination of elegance and reliability, like comfort and know the value of money - you are welcome to
contact us
.
Warranty
Warranty is the main criterion for evaluating product quality. After all, the manufacturer is solely responsible for warranty obligations and cannot overstate the warranty periods. Confidence in the quality and reliability of our products gives us the right to grant a 20-years free warranty for the uPVC profile and accessories in window and door structures.
We are beside you
Every day we are getting closer to each house, opening new offices and representative offices. In each of them you will be able to get useful advice and comprehensive answers to any questions concerning the installation of plastic windows in your home.
Guided by your wishes and taking into account production capabilities, experienced professionals offer the best options for products and accessories, they will be able to undertake individual architectural design of structures for glazing of residential and industrial buildings, shopping centers, storefronts. The diversity of forms is limitless and your imagination is a proof of that!
All kinds of manufacturing, delivery, installation and finishing, including warranty services are performed by highly professionals. For us, qualification of our staff is as important factor as modern and reliable equipment.
JANUARY offer: "More gifts in the New Year!"

When you order PVC kitchen and bathroom cabinets ANY configuration.
Only in January 20 23 discount for ALL 20% !
*This price offer is valid only in January 2023. Execution of the order white case profile with any type of opening.
The order is completed within 30 days. Prepayment when ordering 90% of the cost.
With our every step we are getting closer and more accessible. Each month we will make promotions offering the most popular options at low price or even Free of charge!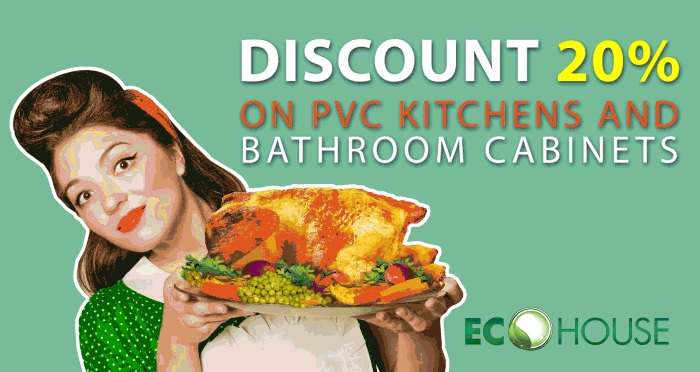 We have already made hundredtwo steps towards to our customers.
And today it's the time for our HUNDRED and THIRD STEP.